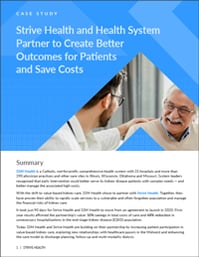 With the shift to value-based kidney care, SSM Health chose to partner with Strive Health. It took just 90 days for Strive Health and SSM Health to move from an agreement to launch in 2020.
First-year results affirmed the partnership's value: 10% savings in total costs of care among ESKD and high-risk CKD populations and 48% reduction in unnecessary hospitalizations in the ESKD population.
Fill out the form to read the full case study.